About 30 million people are affected by periodontitis in Germany. We offer the best-possible treatment plan to prevent your periodontitis at our private dental practice in Munich Lehel.
One of the many triggers of periodontitis is the bacteria below the gingival surface. As a defense mechanism,the body tries to kill these bacteria. However, not only the bacteria, but also the periodontium and the bone are affected by the tooth. Consequently, it results in a degeneration of the periodontium and the bone,thereby leading to the loosening of the tooth.
Poor oral hygiene
Genetic predisposition
Shrinkage of dentures
Dental or temporomandibular joint deformities
Disorders of the immune system
The signs of periodontitis
This gum disease usually causes minimal pain. Therefore, it is often often goes unnoticed by most patients. The most common signs of periodontitis is:
Bleeding of the gums
Loose teeth
Halitosis
Swelling of the gums
Bright red, dusky red or purplish gums
If the disease is detected early, bone loss and adverse health effects ( Perio Prevention Center ) can be still successfully prevented. An important preventive factor is a professional teeth cleaning at Lehel combined with good domestic dental care. Today, it is undisputed that gum diseases (periodontitis) have a negative impact on the overall well-being of a person. This is especially evident in scientific studies about diseases of the cardiovascular system, diabetes mellitus and rheumatic joint diseases. Through regular professional teeth cleaning in Munich, the emergence of periodontitis can be reversed and the risk of systemic diseases can be reduced.
Effects of periodontal disease on systemic health.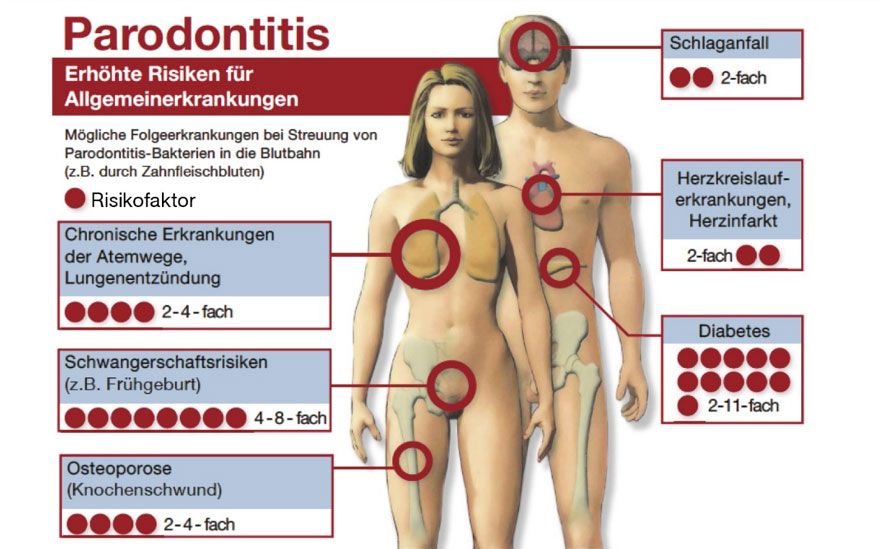 About 30 Million people suffer from periodontitis in Germany. Men have higher chances of being diagnosed with the disease than women. Nevertheless, very few suspect that something might be wrong as the disease usually emerges relatively painless. As a result, the disease often goes unnoticed, thus, most of the patients miss the first stages of the treatment process. However, periodontitis can treated at any stage. Undoubtedly, the sooner the therapy starts, the higher are the chances for successful treatment results. Thus, as a certified Perio Prevention Center in Munich , we specialize in detecting periodontitis at its earliest stage by using the aMMP8 saliva test.
An Appointment for a periodontitis treatment in Lehel?
You would like to have a periodontitis therapy in Munich? The private practice in Lehel offers comprehensive periodontitis prevention and treatment options. We have developed a special therapy concept for our patients that is individually tailored to the needs of the patient. For further information on therapy contact our team at the Private Dental Practice in Munich. We will be happy to answer your questions anytime +49 (o) 89 – 255 46 888 or make an appointment directly online. Your dentists at Lehel are looking forward to seeing you!